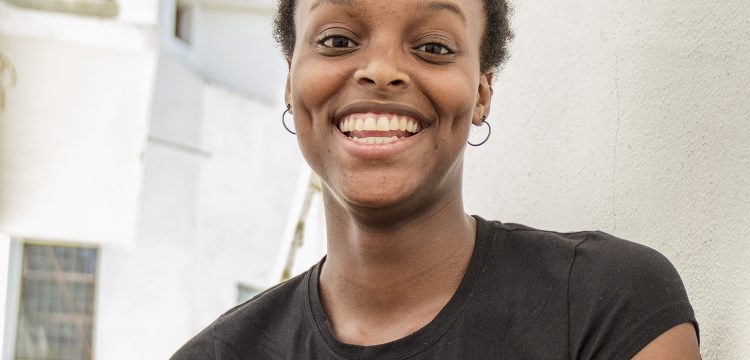 Marina, the breathtaking haitian
The day fashion producers discover the Haitian Marina Mathieu, she will certainly have to change her idea about pursuing her desire to graduate in Communication in the Federal University of Rio de Janeiro (UFRJ). Of rare beauty, accentuated by her simple ways, hazelnut eyes and dimples that adorn her wide smile, Marina arrived in Rio in February to continue the courses she had been taken in Canada. At 21, she plans to major in Sexology, not for any wish to focus on the erotic side of the subject, but instead as a result from her desire to help combat discrimination against women, homosexuals and transvestites.
With a charming and unique accent which reflects her knowledge in French, English, Haitian Creole, Spanish and an evolving Portuguese, the young woman was born in Port-of-Prince where she lived with her two siblings and her parents, her father an agronomist and her mother, an engineer and psychologist. After the earthquake of 2010, she went to stay with her grandmother and remained in Canada where she has been living for the past 5 years. Her sister, Fedora, also enchanting and well-traveled, spent her summer break in 2012 in Rio and recommended the city to her.
"I am a beach person. I love to dance, sing and be close to the beach", she says. When she got to Rio, she stayed in a hostel in Botafogo in the Southern zone, recommended to her by her sister's acquaintances. The truth is she was a bit disappointed because she had previously envisioned an area full of houses, just like in Haiti, but instead had found a bunch of skyscrapers. "I did not know it was more expensive to live in Rio than in Canada", she compares, even though she admits fruit is cheaper here.
As a matter of fact, before coming to Rio, she spent a period of time in Ecuador, where she found the standard of living to be better, with drinking water and an efficient transportation system, in an environment not as rich as Canada nor as poor as her country, with lots of beaches. Her exchange at UFRJ was already planned and her life took a turn when she arrived. "Here, it is not as poor as Haiti, but just like there, people like to enjoy life and I receive a lot of help in my school." Marina has already participated in activities on the Haiti Aqui project in Viva Rio.
When she was studying at the School of Communication in Canada, she chose to focus on production, specifically television. It did not take a lot of time for her to realize that this road would not lead her to where she wanted to go. She soon became interested in Journalism when she arrived at UFRJ and unlike in Canada, where there exists a University degree in Sexology, she plans on proceeding in journalism and specializing.
At the moment, there is no way she will get a Brazilian boyfriend: "They all say the same stuff", she explains. Therefore, she focuses her energy in her studies, in exercising- "I do yoga to focus my mind and I do exercises like trekking"- and in her culinary passions, whether it be cooking or eating. In Brazil, she relishes such food as acaí, feijoada and passion fruit caipirinha. "I have to stay in shape because I really love to eat", she says, although her body, with a height of 5ft8 together with a well-distributed 68 kilos, does not confirm her fear to earn an extra pound.
Text: Celina Côrtes